Pauntley Court specialises in small weddings. As an exclusive use venue, you can make the house and gardens yours with your close family and friends, midweek for one day or three, staying in our luxurious bedrooms on site.
Why choose a Midweek Micro Wedding at Pauntley Court?
1) It will be easier to find and book your preferred date with us, even in the summer months.
2) The most sought-after suppliers are more likely to be available on your wedding date.
3) You will have more budget to spend on the details such as your dress or the styling of your day.
4) More quality time to chat, relax and make special memories with your smaller number of guests.
5) It can feel even more exclusive inviting just your very close family and friends for a midweek wedding.
6) A smaller wedding has a more intimate and personal atmosphere – and mid-week makes it completely unique.
7) The more cost-effective nature of a mid-week micro wedding, means you can spend more on a special Honeymoon break away.
Tilly and Reece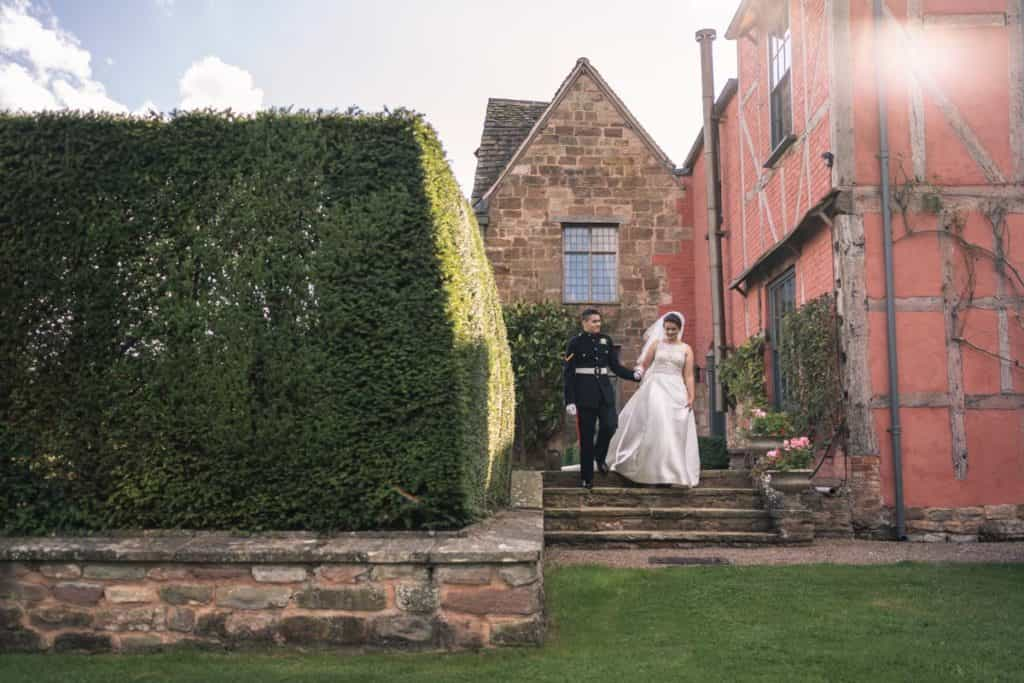 Tilly and Reece chose to have a midweek micro wedding reception at Pauntley Court last September.
After their wedding in Tilly's parish church, the happy couple were greeted with a glass of bubbles before moving through into the gorgeous gardens at Pauntley Court.
Drinks and canapés were enjoyed by all the guests as they chatted and laughed together under our 'Tentickle' stretch tent within the hornbeam arches on the first lawn. The sun was shining, and everyone was relaxed and happy, with time to reflect on the beautiful church service, and excited to move into the house to enjoy the next part of the big day!
Tilly and Reece had a chance to wander off with their photographer Lee Hawley through the magical garden rooms and into the sunken garden.
Everyone was breathing in the magical atmosphere and the glorious far-reaching views across the Gloucestershire countryside.
Guests were then asked to move into the house for the wonderful wedding breakfast by Charlotte Gardner catering. Tilly's mother and family had decorated the long trestle tables the day before and personalised the table plan, just as they wished it to look.
The Ballroom was filled with joy and much laughter and everyone had a chance to talk and enjoy the personal and intimate atmosphere. The wedding cake looked beautiful on the grand piano.
When the guests left at the end of the day Tilly and Reece retired to the romantic and cosy bridal suite,
Elinor Fettiplace
, time to reflect and reminisce on their beautiful wedding day.
"The house and grounds were pristine and we couldn't have imagined a more beautiful venue for our reception!" - Tilly, Bride, 2020
Book your midweek wedding
If you are thinking about a small midweek wedding for 2022, please do get in touch with Melissa. We are taking couples on virtual tours of the house and gardens and can give you lots of advice on creating an intimate midweek wedding.
Photography by Lee Hawley Photography https://www.leehawleyphotography.com/
Catering by Charlotte Gardner Catering https://www.charlottegcatering.com/
< Previous blog
Next blog >