At Pauntley Court we love our Micro Weddings, and we have many indoor and outdoor unique dining spaces for you to choose from, for your one-of-a kind wedding breakfast.
For small, bijou weddings, Pauntley Court has so many quirky and magical spaces for you to create the wedding breakfast of your dreams, giving you and your guests some very special memories. Whether you decide to have an intimate and atmospheric dinner in the ballroom or a wildly romantic and quintessentially English set up amongst the yew hedges, the choice is yours!
Since opening in 2019, we have seen a huge increase in interest for our Micro and Petite Wedding packages. We feel Pauntley Court offers the most perfect setting for the intimate wedding as there are just so many options for you and your close family and friends to spend time together over the three days you are here. You could choose to dine in a different place for every part of your three day wedding event.
I have brought together some wonderfully inspiring ideas from some of the photoshoots that we have had at Pauntley Court, which I think will give you a strong sense of the blank canvas we can offer you and the many options that there are. You can let your imagination and creative ideas run wild with so many backdrops and beautiful settings!
Underneath the Hornbeam Arches
Our first photoshoot was with Krysta of For the Love of Weddings and Kirsten of Little Wedding Helper. A magical, almost mediterranean setting was created with a long trestle table set up under our hornbeam arches. It felt like we were in Italy that day with the elegance of the linens (from 88events) in combination with the warm colours of the floral arrangements by Honeysuckle Flowers and terracotta candles, cleverly married with the warm reddish glow of the house. I loved the details such as the crystal lanterns hanging from the hornbeams (from Crescent Moon Events).
Photographer: Gyan Gurung
The Flower Room
Another exceptionally unusual and characterful space is the Flower Room, which I often suggest for the pre-wedding day supper. We have a fantastic bar that couples are free to use and the rustic trestle tables are a perfect fit in here for up to 24 guests to sit and enjoy the evening sun streaming in. Couples can ask their chosen caterer to create an outdoor feast of a barbecue or make an indulgent paella for all your guests to enjoy. A freshly made pizza, cooked from from a converted horsebox is also a fun thing to do, saving the formal gardens until your wedding day the next day.
The fresh and natural flowers by Kate's Cutting Patch, add vibrancy and embrace the warm, rich colour of the Flower room.
Photographer; David Liebst photography
The Ballroom
Round tables and the banqueting style trestles both work well in here, and with its large sash windows, this naturally lit room is wonderful to dine in. Jules of Wild & Co created the fabulous tall flower arrangements that lend themselves to the ballroom with its high ceiling and large mirror over the fireplace. These were created for our Open Day in September 2019.
Photographer: Red Maple Photography
The 'Ruin Garden'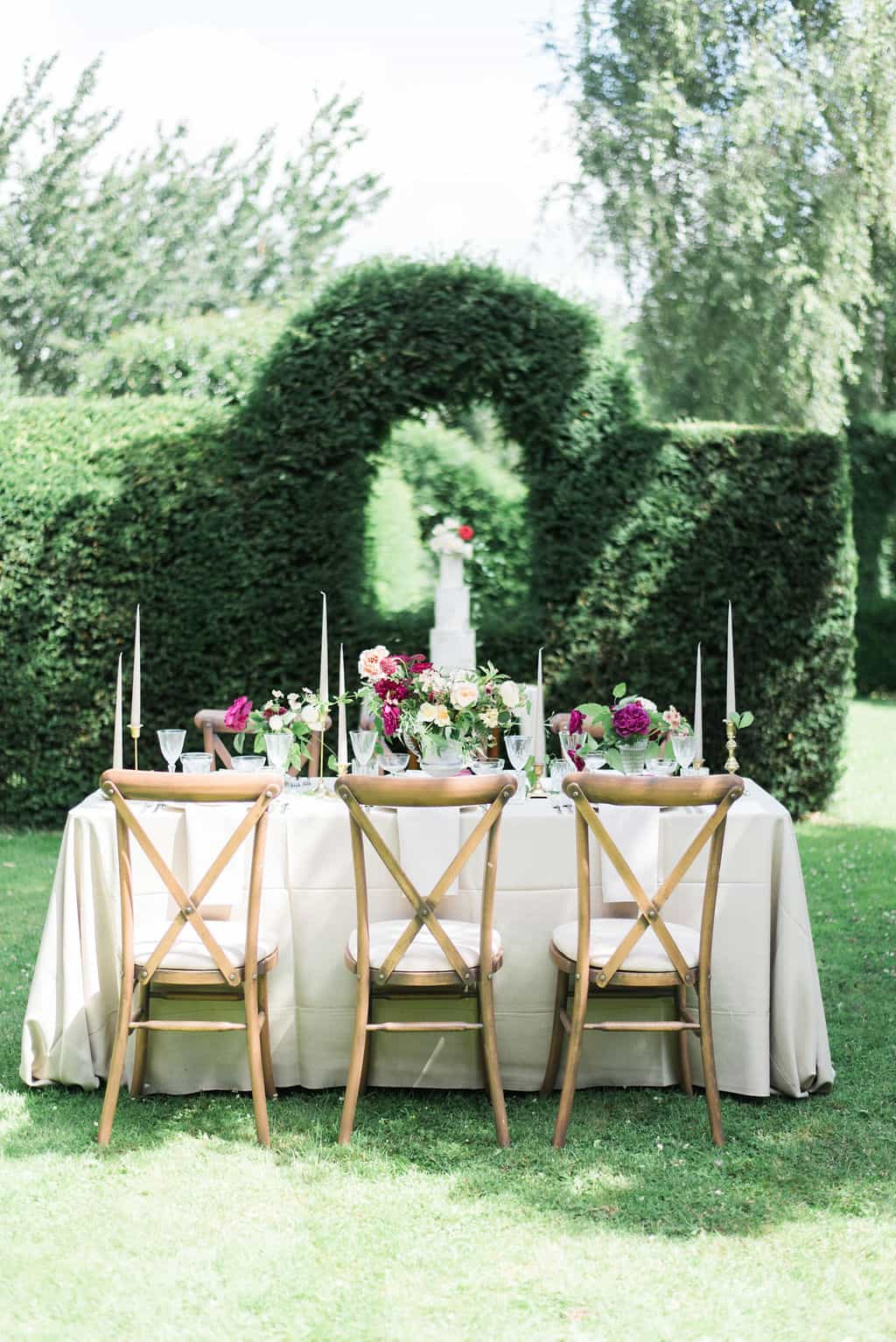 For a quintessentially English feel for your intimate dining with your close family and friends, you could choose to have your wedding breakfast amongst the yew hedges. There are numerous spaces with yew windows cut into the hedges and the deep dark green backdrop of the yew. Here Claire of Clementine Moon used wonderfully romantic colours and lots of roses.
Beneath the Tentickle Stretch Tent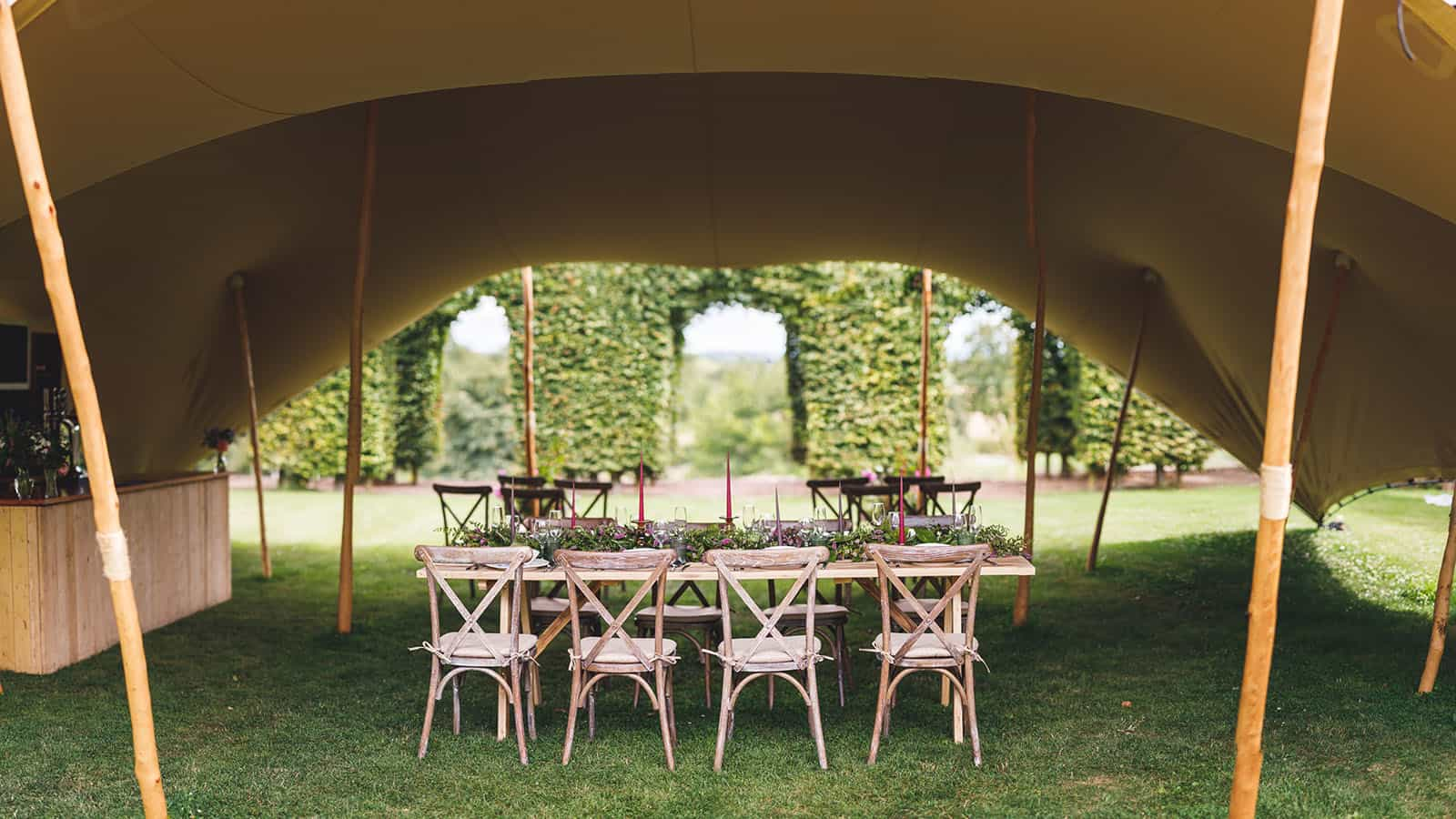 We love our stretch tent which has its very own unique atmosphere, forming a large cradling canopy on one of the flat lawns in the formal gardens, offering far reaching views out across the Gloucestershire countryside. From under here your guests can shade from hot sunshine or be cosy from a passing summer shower! Our rustic trestle tables, made for us by Nick of The Pear Tree Woodwork, work really well with our vintage cross back chairs.
The Hornbeam Arches
The Moroccan themed photoshoot by Lauradana Day of Wedding Creations UK also took our breath away. The tablescape was set up underneath the hornbeam arches, close to the quince orchard and sunken garden, and it was simply stunning and unforgettable. From the hand made wicker lanterns by Jenny Crisp , to the foam free floral meadows by Hazel Designs and the exquisite stationery by Retro Press, this was a stunning and very unique table set up for an intimate dining experience.
As you can see, there are so many fantastic spaces at Pauntley, full of atmosphere and character, allowing you to indulge your imagination to the fullest extent. With a Micro Wedding, you can really focus on all the intricate details which would make your wedding unique, styling your tables precisely how you imagined your dream wedding would look.
The year ahead, with all the different styles and preferences our couples are asking for, is going to be very exciting and truly wonderful to see and myself and the brilliant team at Pauntley look forward to helping these come to life.
Best wishes,
Melissa and the Pauntley Team x🌿
< Previous blog
Next blog >