Wedding brochure
2024/25 edition just released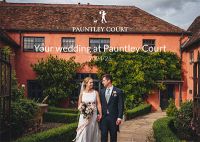 Our recently-updated weddings brochure for 2024/25 is filled with information about the house, floor plans, bedroom layouts, gardens and grounds, and ceremony ideas.
It gives detailed information about the wide variety of wedding options that we offer, including guest numbers and guide prices. Complete the form below to download your copy and start planning your day.
Our wedding at Pauntley Court was all we could have imagined and more. It was the only wedding venue that felt personal, special and this was down to the obvious beauty of the house and grounds, but also Melissa and the wedding coordinator team's friendliness, knowledge and want to help in any way to make the weekend special and unique to us. It was perfect to have the venue Friday to Sunday meaning 20 people all staying at the venue could spend lots of time together pre and post wedding. The options for the wedding ceremony and meal setting at the venue were endless too making it feel personal to what we wanted. Finally, the suppliers that Melissa recommended were incredible in quality and friendly service. This helped for very easy planning and on the day, things running so smoothly as all the suppliers knew one another so just got on with setting up etc! We can't recommend Pauntley Court and Melissa's family and team enough for weddings or staying at the beautiful venue!!
- Lucy & Theo