Wedding brochure
2024/25 edition just released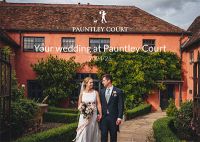 Our recently-updated weddings brochure for 2024/25 is filled with information about the house, floor plans, bedroom layouts, gardens and grounds, and ceremony ideas.
It gives detailed information about the wide variety of wedding options that we offer, including guest numbers and guide prices. Complete the form below to download your copy and receive four follow-up informative emails from us at Pauntley! We will also give you a quick call shortly to see if you would like to have a personal tour of the house and gardens.
"Melissa is amazing, she is so friendly, knowledgeable and you can feel how much she loves Pauntley Court. The grounds are beautiful, and the rooms are just exquisite. There were so many options for the dining area, ceremony location, socialising etc, no detail was missed, and no request was too big to be accommodated. Jilly was our wedding coordinator, and she went above and beyond in terms of helping us make the most of our special day. We had numerous meetings beforehand, and she spent the whole day working away in the background making sure we had the most perfect day. Which we did! We also hired Rachel to help with tidying and washing up in the mornings, and she was an absolute godsend. Her help allowed us to just relax and enjoy our day to the fullest. She cooks a mean breakfast too 😉."
Bride & Groom
June 2023
Photo by Phil Webb Photography
- Jasmine & Adam